One of my favourite quotes from the three character classic is 玉不琢,不成器。 人不学,不知义. In English:
If jade is not polished,
it cannot become a thing of use
If a man does not learn,
he cannot know his duty towards his neighbour
(translation by Herbert Giles)

Interestingly, this can be rendered in Naxi thusly (according to my collection Dongba aphorisms 常用东巴文字明言俗语, written by He Baolin 和宝林):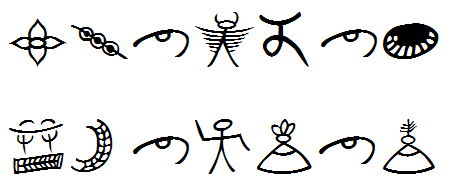 Naxi:
o21 tʂ'u21 me33 ze33 na21 me33 piə33
so21 bɯ33 me33 ɣ33 du21 me33 sɪ33
English word-for-word:
green jade / black jade / not / cut (phonetic loan from ze33, flying ghost) / item, instrument (phonetic loan, from na21, black) / not / become (phonetic loan from piə33 seashell)
study / want (phonetic loan from piə33 kɯ55, belt) / intention (phonetic loan from ɣ33, dance) / wisdom (this character represents the male God of wisdom)/ not / understand (phonetic loan from sɪ33, sage)
So the Naxi is roughly equivalent to the English "jade that is not cut will not become an instrument, [he] who does not have the desire to study will not understand wisdom".
I find it odd that the three character couplets have been mangled in the Naxi by the seemingly unnecessary insertion of extra characters: the first line uses two characters for jade (one for green, one for black), and the second line by the use of both 'want' and 'intention', which again seems superfluous.